The question of when the phrase Men's Human Rights Movement was first coined continues to crop up in conversations in the manosphere and beyond, with conflicting claims. So this post is designed to set the record straight.
It's worth stating that the shorter phrase human rights has been in use in relation to men's issues for several decades, by a number of people, so the idea of thinking about the human rights of men is certainly nothing new nor original. However no one to my knowledge had coined the longer phrase Men's Human Rights Movement until January 2013 when I raised it in an email exchange between Paul Elam and myself, as detailed here: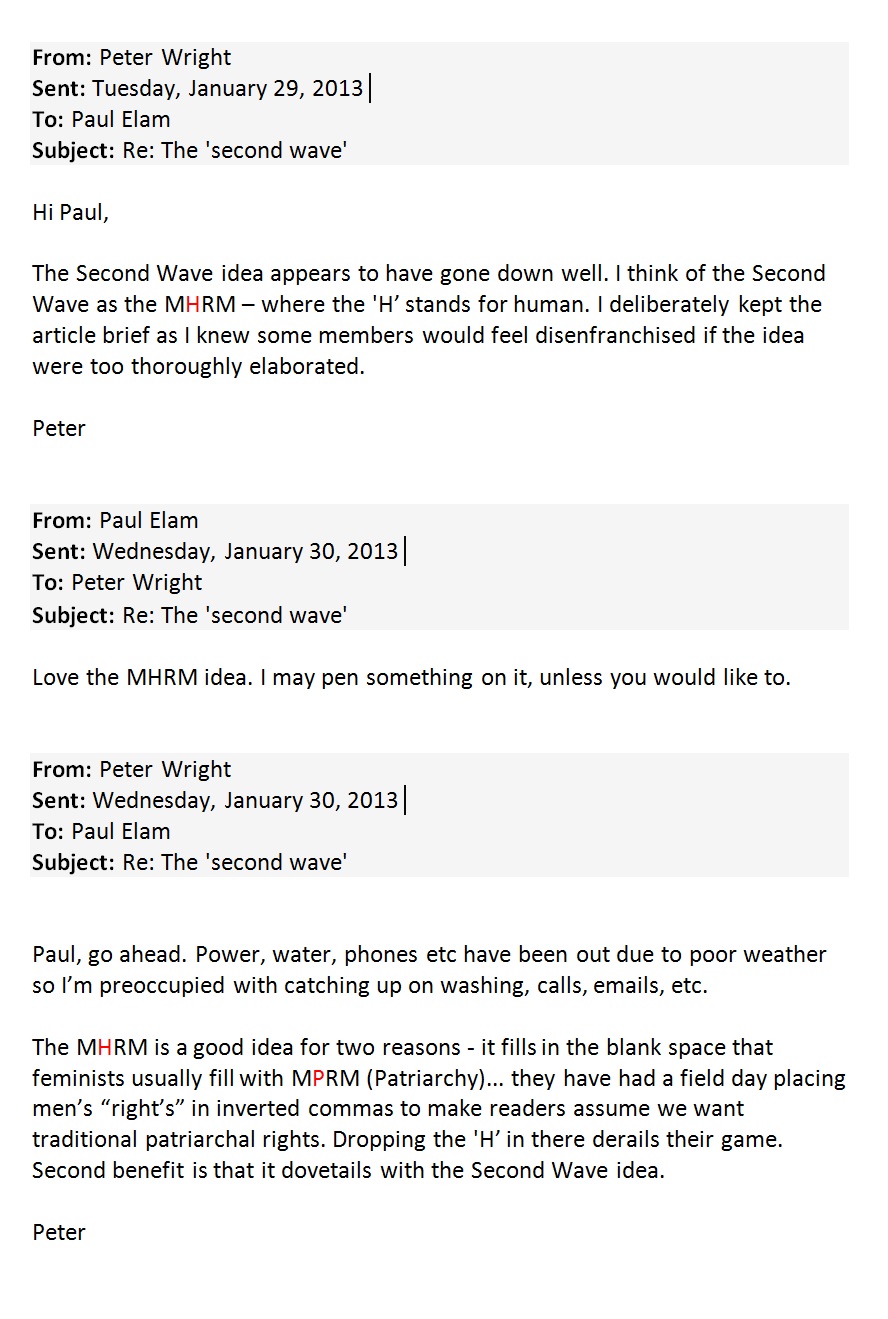 Following that email exchange, Paul Elam went ahead and wrote an article in which he made the following official announcement:
"From this day forward, it is the editorial policy of AVFM to refer to the movement of which we are a part as the Men's Human Rights Movement, or MHRM."

[Paul Elam, Entering a New ERA]
As you can see from the date stamps, Paul's article was published within 24 hours of our above email exchange, and was followed by widespread discussion across the manosphere regarding the pros and cons of the new phrase. The rest as they say is history, and the phrase Men's Human Rights Movement is now used widely.
With the dated email exchange above, and the inaugural MHRM articles which first promoted the MHRM phrase, the history of the phrase is clarified. While I wouldn't necessarily be surprised to learn that someone used the phrase before this time, a search of the internet revealed nothing with earlier dates.
As an aside, those who like and use the MHRM phrase might like to check out the following free-use human rights logo. The symbol, which is part bird and part hand (see directly below), is internationally recognized and can be used on blogs and printed materials promote human rights status of many men's issues.

Lastly among the numerous examples of the shorter phrase human rights being utilized in relation to men's issues, former editor at AVfM John Hembling used the phrase 'Men's Rights are Human Rights' in a poster campaign, which received some media coverage at the time.  Example of potential use of that phrasing with the human rights symbol below: