Introduction: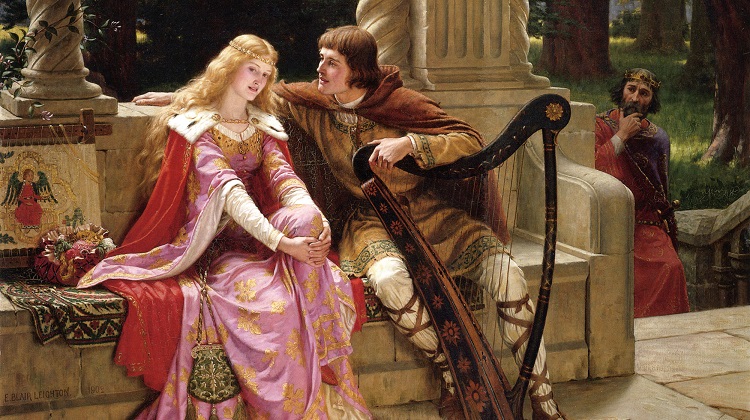 We are so familiar with the love tradition that we mistake it for a natural and universal phenomenon and have no impulse to inquire into its origins. But it is difficult if not impossible to show love to be anything more than an artistic phenomenon or construct — a literary or performative innovation of the Middle Ages.
The term "Courtly Love" ("l'amour courtois") was coined by Gaston Paris in 1883 (in the journal Romania), so the first problem is that we tend to let the Victorians define it for us. The terms that appear in the actual medieval period are "Amour Honestus" (Honest Love) and "Fin Amor" (Refined Love).
The concept was new in the Middle Ages. The medievals were the first to discover (or invent) it, the first to express this form of romantic passion. There was no literary nor social framework for it in the Christian world before the end of the 11th century; the Western tradition had no room for the expression of love in literature: there's none in Beowulf or The Song of Roland.
The religious tradition speaks of love, but that's agape — platonic/christian love of all humankind as your brothers and sisters. In classical literature we witness what's called love, but, as exemplified well by the case of Dido for Aeneas, the passion is often described in firy terms and always reads like eros — hot lust. (Medea and Phaedra are other cautionary examples, and "love" plunges them into crime and disgrace.) Ovid's Ars Armitoria and Remedia Amoris (The Art of Love and The Cure for Love) are ironic and didactic treatises generated from a premise that love is a minor peccadillo. Ovid gives rules for illicit conduct.
Rather unlike "Courtly Love," the literature of the Church is anti-feminist. And the tastemakers in feudal society marry not for love but for real estate and heirs. It's been said that in the Middle Ages you married a fief and got a wife thrown in with the bargain. Idealized "love" goes against the utilitarian economics of marriage, and passion was forbidden by the Church, so until the courtly version came along, Love was duty and "Luv" was sinful. Thus, "Courtly Love" emerged and remained outside of marriage. (Love and marriage don't go together like a horse and carriage.) C.S. Lewis decided that its key features were humility, courtesy, and adultery.
Historical Basis?:
Scholars who have believed that Courtly Love was a true historical development rely on the literature to read back a history. They have decided that it all began in southern France, which was sufficiently peaceful and isolated for such a movement to develop. Old Roman war dogs retired here (Avignon; Toulouse; Nimes under the domaine of Eleanor, Duchess of Aquitaine) and the leisure class, a wealthy and self-sufficient society, found a new fad. (After all, you can't love if you're poor — check your Andreas Capellanus.) Intellectuals from all over were attracted to the area's courts. The south was freer and more tolerant, and was pluralistic (with Arabs, Jews, and Byzantines numbered among the residents). And perhaps the men outnumbered the women (check Rules 3 and 31 in Andreas).
Troubadours:
What we find are troubadour poems. The troubadours were not really wandering minstrels but mostly rich young men, using the Provençal langue d'Oc. Circa 1071 is the birth year for the first known troubadour, William IX of Poitiers. [In the north, feudal knights preferred epic poems of chivalry like the Arthurian tales crossing the channel. But trouvères picked up the troubadour tradition, transposed into the langue d'Oil. In Germany they were called minnesingers.]
Consider Arnaut Daniel's "Chanson do.ill mot son plan e prim" ("A Song with Simple Words and Fine") and Bernard de Ventadour's "Can vei la lauzeta mover" ("When I See the Lark Moving"). Guillaume de Machaut comes later, in the fourteenth century, but is a key big name in love songs: "Amours me fait desirer" ("Love Fills Me with Desire"), "Se ma dame m'a guerpy" ("If My Lady Has Left Me"), "Se je souspir" ("If I Sigh"), "Douce dame jolie" ("Fair and Gentle Lady"), etc.
The formes fixes of the poetry included:
Ballade: a a b (or, if a = ab, then ab ab c)

Virelai: A b b a A b b a A

Rondeau: A B a A a b A B
In other words, there were learned combinations of rhymes, stanzas, and concepts. Some of the music survives but we've lost the form of the rhythms.
The Courtly Love sung of in the songs represents a new structure, not that of the Church or of feudalism, but an overturning of both. Love is now a cult — a sort of religion but outside of normal religion — and a code — outside of feudalism but similarly hierarchical. The language and the relationships are similar (and the language, sometimes borrowed from religion, ends up borrowed back by religion in certain lyrics). In feudalism the vassal is the "man" of his sovereign lord; in courtly love, the vassal is the "man" of his sovereign mistress. In religion, the sinner is penitent and asks that Mary intercede on his behalf with Christ, who is Love. In courtly love, the sinner (against the laws of love) asks the mother of the love god, Cupid's mother Venus, to intercede on his behalf with Cupid or Eros, who is the god of love. So this new love religion seems to parody real religion.
The Procedure:
That's the static phenomenon interpreted. But the process of courtly love, a long-standing relationship with standardized procedures, can be extracted from the literature and tales of love in the medieval period. Here's the deal. Andreas Capellanus describes the optic physiology of the first moments. In short, he sees her. Perhaps she is walking in a garden. The vision of her, which is made up of light rays, enters into his eyeball (hence the blind cannot fall in love). Through a rather circuitous anatomical miracle, the love-ray makes its way down around his esophagus and sticks in his heart. Now he's love-struck. She doesn't know about him at all. She is of high status and "daungerous," which means not that she knows Tai Kwon Do but rather that she is standoffish. He is abject.
After haunting himself with visions of her limbs (by the way, she's long gone now), he swoons a lot and follows various of Andreas' rules ("you can't eat, you can't sleep; there's no doubt you're in deep"). Eventually all this love has to come out somehow, and remarkably it tends to emerge in well-crafted stanzas with rhyme patterns mentioned above and a zippy little meter. Secretly, the lover writes poems to the lady called "complaints" ("planh" in Provençal) because they are largely constructed of laments about his own suffering. These may be delivered to her by an intermediary. But she remains scornful while he or his friend continues heaving poems in her window tied to rocks.
Before actually getting a poem in the teeth, she, through some quirky event, will come to know who has been sending the poems. Eventually she will smile, which means she has accepted him as her "drut" ("dread" — meaning not "oh, no, there he is again" but rather in the sense of awe: "revered one"). Next comes the performance of tests. The lover gets a token, perhaps a glove or a girdle (not the 18-hour kind — more a scarf or sash). And the woman gets carte blanche — jousting, journeys, deeds, anything she wants. "Sir Eminem has insulted me. Kill him." He has to. "Bring home some pork chops. Those last ones were awful." He has to go slay a wild boar. "Fetch me the molars of the Sultan of Baghdad." He's got to climb the widest sea and swim the highest mountain and, though he has nothing against them per se, he's got to hack his way through the Sultan's guards and face the old boy, saying, "Render hither thine molars, payan swine!" "Nay, that likest me not nor will I nother!" Then he has to decapitate the Sultan, wrench out the back teeth, and get back home (probably switching clothes with a palmer at some point), only to find out that now she wants some Baskin Robbins pistachio swirl. And this goes on endlessly.
Something Fishy:
Supposedly the finer points of courtly love were so complex that Eleanor's daughter, Marie of Champagne, commissioned her chaplain, Andreas, to write a rulebook. Another religious man, Chretien de Troyes (fl. 1160-1172) was ordered to write "Lancelot," in which the knight's hesitation at getting into a cart is crucial. Andreas supplies a Latin prose work, De Arte Honeste Amandi (The Art of Courtly Love, as the title is usually loosely translated), which subsequently has been taken as a textbook on courtly love.
But Andreas is a churchman. Check out some of the chapters in the Table of Contents! And what's your honest reaction to reading some of this. A textbook on illicit love? 31 rules? Why 31?
Andreas also provides legal cases! Supposedly, the history of love included Courts of Love ruled by the ladies. There's no historical evidence that this ever took place, and it seems pretty unlikely, but Andreas' material has been referred to so often that it has come to seem true.
Here's one case: a woman's husband has died. Can she accept her servant as her lover? The decision: no, she must marry within her rank. This is not to say that a widow may not marry a lover, but then he would be her husband, not her lover.

Another case: a knight is serving his lady by defending her name. It's getting embarrassing and she wants it stopped. There is much debate about this case. The decision: no, the woman is wrong; she cannot forbid him from loving her.

A final case: two little kids were playing in their medieval sandbox and noticed all the fine ladies and gentlemen engaged in the new love fad about them. They imitatively also agreed to a contract between them: that they would share a kiss each day. They years have passed and this guy keeps showing up at the door every morning for the kiss. The woman wants to be released from this juvenile contract. Does she have a case? The decision: granted, because the rules specifically state that one cannot be about the business of love until one is around the age of thirteen. Therefore all those kisses given since that age must be returned. (Huh?)
So is this all a joke? Andreas also offers a retraction — an about-face at the end. And he mentions a "duplicem sententiam" (a double lesson). Finally all seems sinful and love a heresy.
Feminist Perspective:
Does Courtly Love heighten the status of women? Yes, compared to their roles merely as "cup-bearers" and "peace-weavers" — that is, in Beowulf for example, servants and political pawn in marriage.
Marxist Perspective:
The "love story" has been one of the most pervasive and effective of all ideological apparatuses: one of the most effective smokescreens available in the politics of cultural production. One need only think of the historical popularity of crime stories purveyed as "love stories": from the Trojan War — that paradigmatic "linkage" of love and genocide — to Bonnie and Clyde, from the subcultural Sid and Nancy to the hyperreal Ron and Nancy, we see the degree to which the concept of love is used as a "humanizing" factor, a way of appropriating figures whom we have no other defensible reason to want to identify with. It is also a way of containing whatever political or social threat such figures may pose within the more palatable and manipulable (because simultaneously fetishized as universal and individual) motivations of love and sexual desire…. the "love story," a narrative that frequently disguises itself (qua narrative) or is taken as "natural" as opposed to the contrivances of other generic forms. (Charnes 136-137).
---
Works Cited
The Art of Courtly Love. The Early Music Consort of London. London, Virgin Classics Ltd., 1996. D 216190.
Campbell, Joseph, with Bill Moyers. "Tales of Love and Marriage." The Power of Myth. NY: Doubleday, 1988. 186-204.
Charnes, Linda. Notorious Identity: Materializing the Subject in Shakespeare. Cambridge: Harvard University Press, 1995.
Dodd, William George. "The System of Courtly Love." 1913. Rpt. in Chaucer Criticism, Vol. II. Ed. Richard J. Schoeck and Jerome Taylor. Notre Dame: University of Notre Dame Press, 1961. 1-15. Dodd treats the phenomenon as historical.
Donaldson, E. Talbot. "The Myth of Courtly Love." Speaking of Chaucer. NY: W.W. Norton & Co., Inc., 1970. Donaldson declares Andreas a clerical joke.
Lewis, C.S. The Allegory of Love. 1936. NY: Oxford University Press, 1958.
Troubadour and Trouvère Songs. Music of the Middle Ages, Vol. 1. Lyrichord Early Music Series. NY: Lyrichord Discs Inc., 1994. LEMS 8001.
_______________________________________________

*Article republished with permission from the author.