The following poem that appeared in the London Punch over a century ago (Vol. CXXV, August 5, 1903, p. 79), in response to the new 'gynocentrism theory' formulated by Lester F. Ward in which he proposed that woman is primary and essential in the evolutionary scheme; that originally and normally all things centre around women, and that man is a mere after-thought of nature.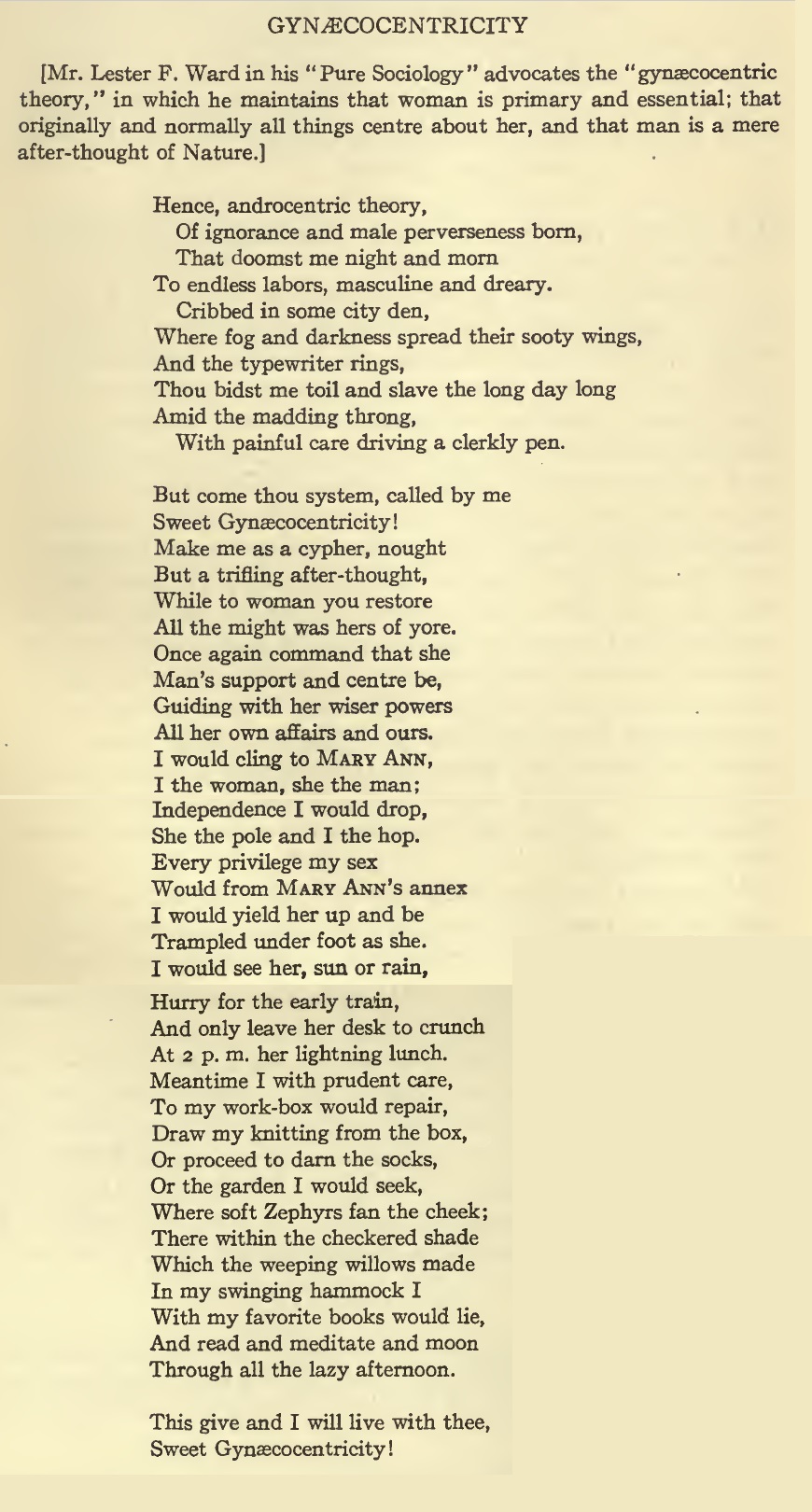 Gynaecocentricity

Hence, androcentric theory,
Of ignorance and male perverseness born,
That doomst me night and morn
To endless labors, masculine and dreary.
Cribbed in some city den,
Where fog and darkness spread their sooty wings,
And the typewriter rings,
Thou bidst me toil and slave the long day long
Amid the madding throng,
With painful care driving a clerkly pen.
But come thou system, called by me
Sweet Gynaecocentricity!
Make me as a cypher, nought
But a trifling after-thought,
While to woman you restore
All the might was hers of yore.
Once again command that she
Man's support and centre be,
Guiding with her wiser powers
All her own affairs and ours.
I would cling to MARY ANN,
I the woman, she the man;
Independence I would drop,
She the pole and I the hop.
Every privilege my sex
Would from MARY ANN'S annex
I would yield her up and be
Trampled under foot as she.
I would see her, sun or rain,
Hurry for the early train,
And only leave her desk to crunch
At 2 p.m. her lightning lunch.
Meantime I with prudent care,
To my work-box would repair,
Draw my knitting from the box,
Or proceed to darn the socks,
Or the garden I would seek,
Where soft Zephyrs fan the cheek;
There within the checkered shade
Which the weeping willows made
In my swinging hammock I
With my favorite books would lie,
And read and meditate and moon
Through all the lazy afternoon.
This give and I will live with thee,
Sweet Gynaecocentricity!

The above poem appears to be a sort of parody on Milton's Allegro, which was widely copied by the global press.
___________________________________