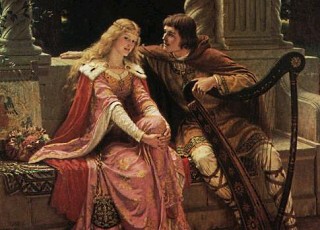 Joseph Campbell states of courtship in the Middle Ages, "If you wanted to make love to a woman, she's already got the drop on you. The technical term for a woman's granting of herself was merci; the woman grants her mercy. Now that might consist in her permission for the man to kiss her on the back of the neck once every Whitsuntide, you know, something like that – or it may be a full giving in love. That would depend upon her estimation of the character of the candidate. The essential idea was to test this man."1 While there are numerous real examples of tests women asked men to endure, including jousting competitions and other dangerous activities, Campbell provides some fictional examples of tests such as, for instance, 'the Myth of The Perilous Bed':
"A number of knights had to experience the perilous bed before getting access to a lady, and it works like this; You come into a room that's absolutely empty, except in the middle of it is a bed on rollers. You are to come in dressed in your full armour – sword, spear, shield, all that heavy stuff- and get into bed. Well, as the knight approaches the bed, it shears away to one side. So he comes again, and it goes the other way. The knight finally thinks, "I've got to jump." So with his full gear, he jumps into the bed, and as soon as he hits the bed, it starts bucking like a bronco all over the room, banging against the walls and all of that kind of thing, and then it stops. Then he's told, 'It's not finished yet. Keep your armour on and keep your shield over yourself. " And then arrows and crossbow bolts pummel him- bang, bang, bang, bang. Then a lion appears and attacks the knight, but he cuts off the lion's feet, and the two of them end up lying there in a pool of blood. Only then do the ladies of the castle come in and see their knight, their saviour, lying there looking dead. One of the ladies takes a bit of 'fur' from her garment and puts it in front of his nose and it moves ever so slightly – he's breathing, he's alive. So they nurse him back to health."
Of this myth Campbell states,
"This is the masculine experience of the feminine temperament: that it doesn't quite make sense, but there it is. That's the way it's shifting this time, that's the way it's going that time. The trial is to hold on, be patient and don't try to solve it. Just endure it, and then all the boons of beautiful womanhood will be yours." [Transformations of Myth Through Time].
This story provides a fascinating insight into the mechanics of gynocentrim. Before the 11th century there was hardly any support in the world for the notion of romantic love; at best it was an underground, unspoken activity disallowed on the world stage where arranged marriages dominated gender interaction completely. When the cult of romantic love appeared, women could for the first time be married and/or choose a male lover with the open encouragement of the society in which they lived. For the first time a woman would force her lover to do worthiness tests – get in a sword fight, a jousting battle, go on a dangerous journey, write some poetry, or procure and provide a precious gift. If he succeeded in her chosen test, he was often rewarded with a small gesture.
The cult of romantic love began in France and rapidly spread to the rest of Europe, and it was a watershed moment for women's power. Women realised their bargaining power and could now ask for favours, worthiness tests and special treatment in exchange for love. It was here in 11th-12th century Europe that chivalry and gynocentrism were born, and without this event it unlikely that a 'battle of the sexes' would have developed, nor would there have been a need for feminists and men's advocates to address the fluctuating power balance as exists between men and women today.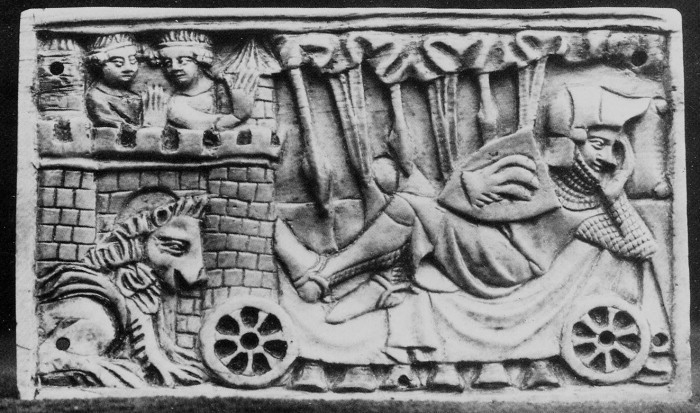 Sir Lancelot rides the Perilous Bed
[1] Joseph Campbell and Bill Moyers, The Power of Myth