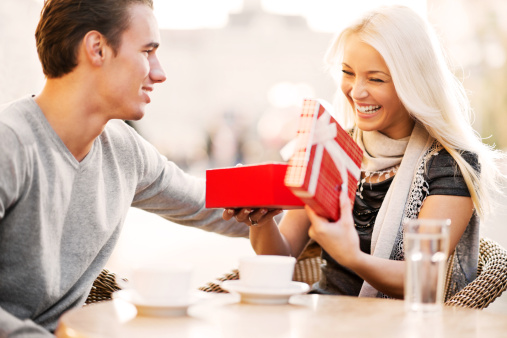 Is benevolent sexism (aka chivalry) attractive to women? According to a new study the answer is, perhaps unsurprisingly, yes.
According to a 2013 study on benevolent sexism by Matthew D. Hammond of the University of Auckland1 a high sense of entitlement disposes women to endorse chivalric customs, such as that women need to be protected, cared for and pampered by males.
Hammond and his colleagues had more than 4,400 men and women complete psychological evaluations to measure their sense of entitlement and adherence to sexist beliefs about women. The beliefs included statements such as, "Women should be cherished and protected by men" and "Women, compared to men, tend to have a superior moral sensibility."2 This group of individuals was tested again one year later. The researchers found a sense of entitlement in women was associated with stronger endorsement of benevolent sexism. Women who believed they deserved more out of life (and who likely received more out of life) were more likely to endorse benevolent sexist beliefs and their adherence to these beliefs increased over time. The association between a sense of entitlement in men and endorsement of benevolent sexism was weak, by contrast, and did not increase over time.
What these findings provide is evidence that female-benefiting sexism practiced by women is responsible for sexist attitudes toward their own gender, as well as toward men — attitudes which contribute more broadly to the maintenance of gender inequality.
Narcissism relies upon chivalry
In the study narcissistic traits are underlined as the basis of women's motivation to garner resource-attainments and self-enhancements via the generosity of male chivalry. Some of the core features of narcissism include an inflated sense of self-worth; need for praise, admiration, and social status; an undeserved sense of entitlement; a sense that one deserves nice things; and a belief in one's superior intelligence and beauty – all without a commensurate level of validity or deservedness. A woman (or man) with such a disposition generally displays efforts to gain esteem, status, and resources by fair means or foul, including by feigning charm, confidence, and an energetic approach to social interactions, and she takes personal responsibility for all successes, while attributing all personal failures to external sources. Narcissistic traits ensure that the individual will act selfishly to secure material gains even when it means exploiting others, and those practicing benevolent sexism tend to encourage such behaviour. According to the authors:
"Benevolent sexism facilitates the capacity to gain material resources and complements feelings of deservingness by promoting a structure of intimate relationships in which men use their access to social power and status to provide for women (Chen et al., 2009). Second, benevolent sexism reinforces beliefs of superiority by expressing praise and reverence of women, emphasizing qualities of purity, morality, and culture which make women the ''fairer sex.'' Indeed, identifying with these kinds of gender-related beliefs (e.g., women are warm) fosters a more positive self-concept (Rudman, Greenwald, & McGhee, 2001). Moreover, for women higher in psychological entitlement, benevolent sexism legitimizes a self-centric approach to relationships by emphasizing women's special status within the intimate domain and men's responsibilities of providing and caring for women. Such care involves everyday chivalrous behaviors, such as paying on a first date and opening doors for women (Sarlet et al., 2012; Viki et al., 2003), to more overarching prescriptions for men's behavior toward women, such as being ''willing to sacrifice their own well-being'' to provide for women and to ensure women's happiness by placing her ''on a pedestal'' (Ambivalent Sexism Inventory; Glick & Fiske, 1996)… In contrast to the overt benefits that benevolent sexism promises women, men's endorsement of benevolent sexism reflects making sacrifices for women by relinquishing power in the relationship domain and providing for and protecting their partners (Glick & Fiske, 1996). Moreover, although benevolent sexism portrays men as ''gallant protectors'' (Glick & Fiske, 2001), it does not emphasize men's superiority over women or cast men as deserving of praise and provision." 3
Judging by the above study women's expectation of chivalric treatment has altered little over the course of the last 800 years since chivalric responsibitities were first instituted. We can take, for example, the voices of two women from history who give voice to the findings of the study; the first written by female author Lucrezia Marinella in 1600:
"Women are honored everywhere with the use of ornaments that greatly surpass men's, as can be observed. It is a marvelous sight in our city to see the wife of a shoemaker or butcher or even a porter all dressed up with gold chains round her neck, with pearls and valuable rings on her fingers, accompanied by a pair of women on either side to assist her and give her a hand, and then, by contrast, to see her husband cutting up meat all soiled with ox's blood and down at heel, or loaded up like a beast of burden dressed in rough cloth, as porters are. At first it may seem an astonishing anomaly to see the wife dressed like a lady and the husband so basely that he often appears to be her servant or butler, but if we consider the matter properly, we find it reasonable because it is necessary for a woman, even if she is humble and low, to be ornamented in this way because of her natural dignity and excellence, and for the man to be less so, like a servant or beast born to serve her."
Or this from another woman Modesta Pozzo in 1590:
"For don't we see that men's rightful task is to go out to work and wear themselves out trying to accumulate wealth, as though they were our factors or stewards, so that we can remain at home like the lady of the house directing their work and enjoying the profit of their labors? That, if you like, is the reason why men are naturally stronger and more robust than us — they need to be, so they can put up with the hard labor they must endure in our service."

Sources:
[1] Matthew D. Hammond, Chris G. Sibley, and Nickola C. Overall, The Allure of Sexism: Psychological Entitlement Fosters Women's Endorsement of Benevolent Sexism Over Time
[2] Eric W. Dolan, Self-entitled women are more likely to endorse benevolent sexism, study finds
[3] Matthew D. Hammond, Chris G. Sibley, and Nickola C. Overall [Ibid]
[4] Ruth Styles, The fickle face of feminism: Women are fine with sexism… as long as it benefits them
[5] Lucrezia Marinella: gynocentrism in 1600
[6] Modesta Pozzo: gynocentrism in 1590