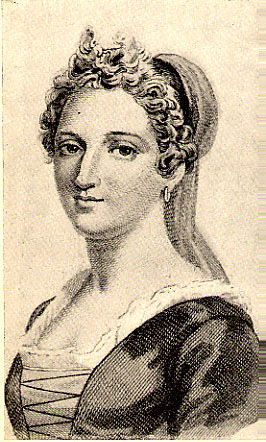 Lucrezia Marinella (c.1571-1653) was a Venetian author and early advocate of gynocentric feminism. She describes gender relations in Europe as based on males acting as "servants," "subjects," "beasts of burden," or "butlers" toward women who are universally viewed as men's superiors.
The following excerpts are from her book The Nobility and Excellence of Women and the Defects and Vices of Men:
THE REASONS FOR MEN'S NOBLE TREATMENT OF WOMEN AND THE THINGS THEY SAY ABOUT WOMEN
"Even though men upbraid and defame the female sex each day in garrulous and biting language, and search in every possible way to obscure the noble actions of women, they are forced in spite of themselves, by consciences that are governed by truth, to honor worthy women and praise them to the skies. They do this in words and in writings that demonstrate women's superiority beyond any doubt. We see constantly and in every place and occasion that women are honored by men. That is why men bow to them and make way for them when walking, why they raise their hats to them and wait on them at the table like servants, accompany them bareheaded in the streets, and give up their seats to them. These obvious signs of honor are performed toward women not merely by low, plebeian men but also by dukes and kings, who raise their hats whether greeting princesses or ladies of mediocre condition. It may be superfluous, but I will give two examples of these princes. The first is the King of France, who honors every lady with bows and salutations; the second the King of Spain, who, though extremely powerful, raises his cap or hat on meeting a noblewoman, which is something he would not do to any male subject, even if he were a prince. Uncovering the head, standing up, and giving way are undoubtedly signs and proofs of honor, and since they are signs of honor, women must be nobler than the men who honor them, because the object of such honor is always more nobler than the person who honors them. Nobody honors another person unless they know that the person has some gift or quality that is superior to his own… It is necessary therefore to conclude that women are nobler than men because they are honored by men. Further indications of honor are the ornaments bestowed on women, who are permitted to dress themselves in purple and cloth of gold with diverse embroideries decorated with pearls and diamonds, and to adorn their heads with pretty gold ornaments and finest enamel and precious stones. These things are forbidden to men, apart from rulers. If any other man dared to dress himself in cloth of gold or such like, he would be mocked and pointed out as light-minded or a downright buffoon.
"In Germany, where men are not permitted any sort of festive attire unless they are noble, every little woman adorns herself with festive drapes and different types of necklace, as is the habit all over the world. Women are honored everywhere with the use of ornaments that greatly surpass men's, as can be observed. It is a marvelous sight in our city to see the wife of a shoemaker or butcher or even a porter all dressed up with gold chains round her neck, with pearls and valuable rings on her fingers, accompanied by a pair of women on either side to assist her and give her a hand, and then, by contrast, to see her husband cutting up meat all soiled with ox's blood and down at heel, or loaded up like a beast of burden dressed in rough cloth, as porters are. At first it may seem an astonishing anomaly to see the wife dressed like a lady and the husband so basely that he often appears to be her servant or butler, but if we consider the matter properly, we find it reasonable because it is necessary for a woman, even if she is humble and low, to be ornamented in this way because of her natural dignity and excellence, and for the man to be less so, like a servant or beast born to serve her. As well as in the ways already narrated, women have been honored by men with great and eminent titles that are used by them continually, being commonly referred to as donne, for, as was demonstrated in the first chapter, the name donna means lady and mistress. When men refer to women thus, they honor them, though they may not intend to, by calling them ladies, even if they are humble and of a lowly disposition. In truth, to express the nobility of this sex men could not find a more appropriate and fitting name than donna, which immediately shows women's superiority and precedence over men, because by calling women mistress they show themselves of necessity to be subjects and servants.
"Women's nobility and excellence is recognized by the French and Spanish more than by the Italians. In these countries they are allowed to inherit estates, succeeding not only to dukedoms but to principalities exactly as men do. Not only to principalities, but to the monarchy itself, like the sister of the King of Spain, who was able to ascend to the monarchy, as well as have dominion over numerous other principalities. Women who inherit estates can be seen every day in France and England. The Germans too recognize women's superiority. The women there conduct all the business dealings and mercantile transactions in the cities while the men remain at the stoves. This also occurs in Flanders and in France. In France men may not spend even a centime unless at the request of their wives, and women not only administrate business dealings and sales but private income as well. What do you think? Are not women, as I have proved, known by men to be nobler than them, seeing that they confess it with their own mouths? What more is there for me to say?"