Lester F. Ward (1841-1913), a scholar of biological and sociological disciplines, was a passionate advocate for first wave feminism and "women's liberation." Just like today's difference feminists he spoke about biological differences between the sexes, and theorized that women were the more superior sex due to evolutionary and reproductive value.
Sound familiar? It should, because it's the same gynocentrism theory is promoted in the manosphere.
Ward is celebrated as a pioneering male feminist by historian Ann Taylor Allen,1 and Michael Kimmel classifies him as a feminist sociologist.2 And its not only today's feminists who celebrate his theory: All three waves championed his, or similar gynocentric theories as a triumph of scientific truth and of women's deserved special treatment.
Protestors may say that feminists have never believed in biology, that they've always championed the blank slate theory. Feminists, however, have consistently proven to be opportunists who sometimes deny biology, and then very often appeal to it. For example feminists love to bring attention to biological facts like women's vulnerability due to smaller size, pregnancy, lactation, menstruation, etc. – not to mention many of the first feminists championed biological gynocentrism (actually using that word) as an appeal for men to pedestalize them.
Lester Ward delivered his famous "Gynæcocentrism Theory" speech to an enthusiastic group of 1st wave feminists in the year 1888  – including Mrs. Elizabeth Cady Stanton, Miss Phoebe Couzins, and many others well known.3 The title of the speech was Our Better Halves, and consisted of an elaborate claim that women were biologically superior to males due to their evolutionary and reproductive roles, and thus women were more important than males who were described as mere helpers in the evolutionary scheme.
Ward's feminist audience rejoiced in his deductions because they seemed to prove the claim of women's preeminence at a time when the proposal was doubted. According to historian Cynthia Davis, the lending of scientific theory to claims of female superiority "led conservatives to identify Darwin as modern feminism's 'originator,' and Ward as its 'prophet."4
First wave feminist Charlotte Perkins-Gilman (1860 – 1935) claimed that Ward's theory of gynocentrism was the most important contribution to 'the woman question' ever made.4,5 Commenting on Ward's theory to doubters, Gilman wrote "You'll have to swallow it. The female is the race type; the male is her assistant. It is established beyond peradventure."6  While continuing to laud Ward's gynocentrism theory as a brilliant contribution, she expanded on it by suggesting that women were more evolutionarily advanced than men, and that women were continuing to advance at a faster rate than men.4
In his 1903 book Pure Sociology,7 Ward published a more lengthy chapter explaining his gynæcocentric theory. His theory travelled around the world and fomented feverish debates, as can be seen from this sample of articles published at the time:
Furthermore, Ward's gynæcocentrism theory was championed by Marxists as a scientific basis for elevation of women's rights, as shown in the following article published in Justice, 1909, which reads "Why the statement of these theories is of such immense importance to Socialists is that the gynæcocentric theory is a striking corroboration of the correctness of the Marxian interpretation that the economic independence of women will be one of the most important phases of the Social Revolution."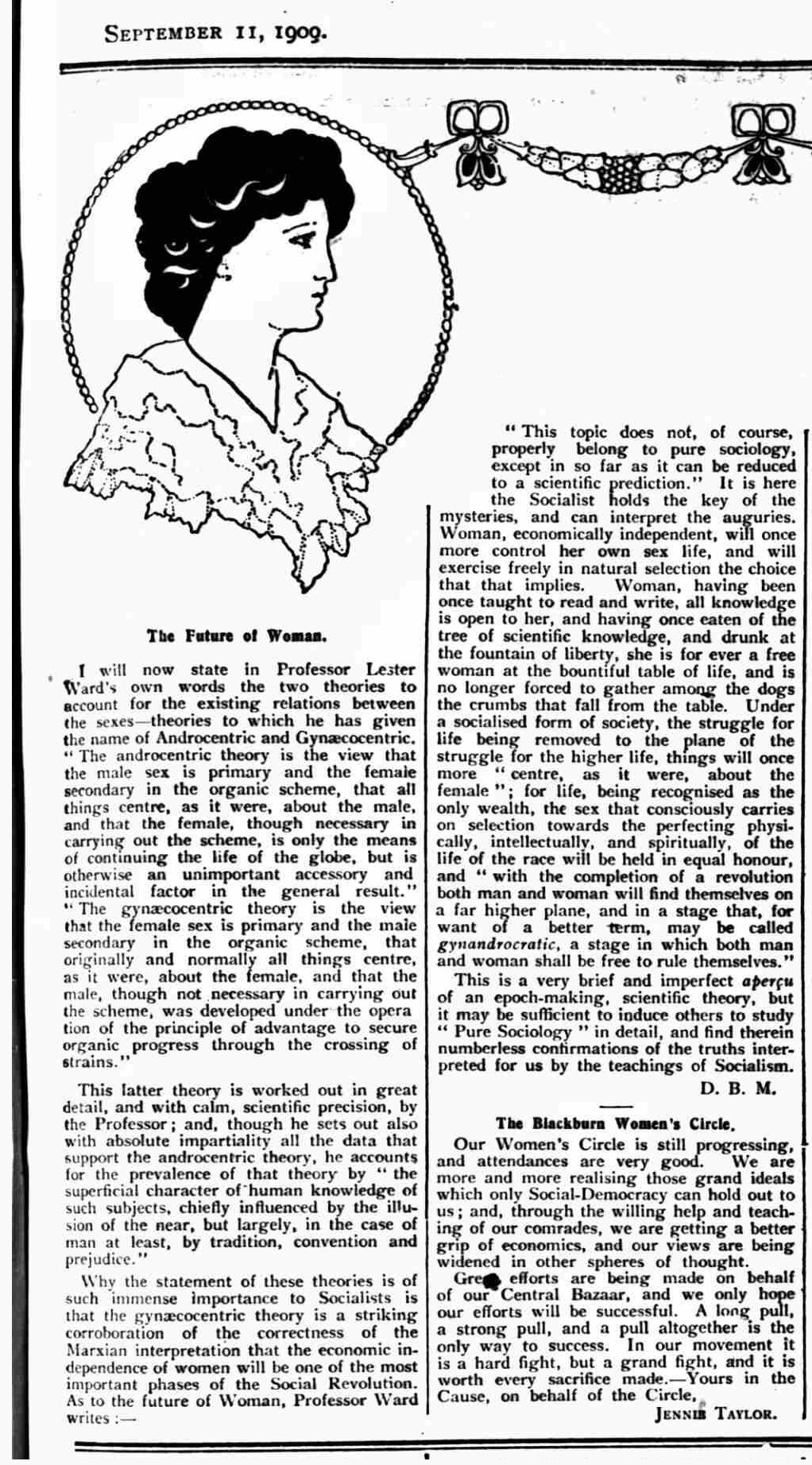 After pinning down the origin of this theory, a question arises; Do we really want to keep promoting these feminist-inspired theories today? Whatever the merits of Ward's biological basis for gynocentrism (well there's no merit, actually), it has since flourished both in feminist circles and, sometimes, in men's activist conceptions of the way human evolution works: we are a hopelessly gynocentric species and we need to get used to it.
Feminists probably like this 135 year old narrative, and they of course have led the way to its institutionalization in the canon of modern ideas. From my observations, those most invested in a gynocentric lifestyle, whether they be men or women, are likely to be the strongest champions of this pseudo-theory today.
For anyone wanting to check the scientific veracity of biological-gynocentrism theories, I can think of no better corpus than that of Peter Ryan; a researcher educated in molecular biology who has debunked all of the usual "scientific" appeals to gynocentrism as amounting to pseudoscience. You can read his article on Ward's gynocentrism theory here, and his entire series of articles here.
While human relationships and the wider culture can indeed be tilted in a gynocentric direction, this need not be understood as a necessary evolutionary norm. The gynocentrism we witness today can be understood as a maladaptive behaviour resulting from novel cultural forces playing on our biological potentials. Those novel forces act in a similar way to a cellphone in a plane which is why we switch phones to flight mode – nobody wants a corrupted flight program nor any of the novel reactions that would come with it. The plane is definitely not programmed to do spinning cartwheels due to someone's cellphone interfering, but the existing program has potential to be corrupted to produce that outcome. So likewise, the claim that gynocentrism is hardwired in us as a "natural instinct" may be better understood as a corrupting set of forces playing on our biological mechanisms to generate pathological, maladaptive reactions.
This problem has been succinctly summarized by Hanna Wallen's concept of the 'Natural Gynocentrism Fallacy,' which refers to the belief that sexually mature women are the most important unit within the human species due to the role they play in reproduction – ie. it is a belief in which women are assumed to be more valuable to human society, and to human relationships, than are men, children and even the perpetuation of one's genes. A corollary assumption is that women's lives and wants should be prioritized over those of men and children.
The natural gynocentrism fallacy, according to Wallen, involves a denial of the fact that all adult humans, including women, are child-centric, gene-centric, and utilitarian toward that end. Thus the hypothesis that humans are a 'gynocentric species' amounts to a denial of women's evolutionary value as an instrument of the child's creation and protection, i.e., not because her gender is valued per se outside this utilitarian function. Wallen summarizes that gynocentrism is not a naturally occurring phenomenon, is not inevitable, and is something that can be corrected. She states that historical gynocentric attitudes that have been treated as "natural," and thus as the reason why gynocentrism could never be eliminated, are false.
With the knowledge that biological theories of gynocentrism began with first wave feminists, this should at least prompt us to review the assumptions we've picked up regarding humans being a gynocentric species. We can at least question the validity of this longstanding feminist dogma, no matter which side of the equation we ultimately fall.
References:
[1] Ann Taylor Allen, Feminism, Social Science, and the Meanings of Modernity: The Debate on the Origin of the Family in Europe and the United States, 1860-1914
[2] Kimmel, M. S., & Mahler, M. (2007). Classical sociological theory. New York:: Oxford University Press
[3] Ward, L. F. Our Better Halves.
[4] Davis, C. (2010). Charlotte Perkins Gilman: A Biography. Stanford University Press.
[5] Gilman, C. P. (1911). The Man-Made World; or. Our Androcentric Culture.
[6] Gilman, C. P. (1911). Moving the Mountain. Charlton Company.
[7] Ward, L. F. (1903). Pure sociology: A treatise on the origin and spontaneous development of society. Macmillan Company.