As courtly love culture developed, a class of self-styled and avant-garde poets arose called the troubadours. Like the knights of the period they sought to devote themselves to the love and adoration of women, though unlike the knights many of the troubadours practiced a chaste kind of devotion to Ladies that did not involve sexual intercourse. The following excerpt is from the 1913 classic volume titled The Troubadours, by Rev. H.J. Chaytor, M.A.
_________
CHAPTER II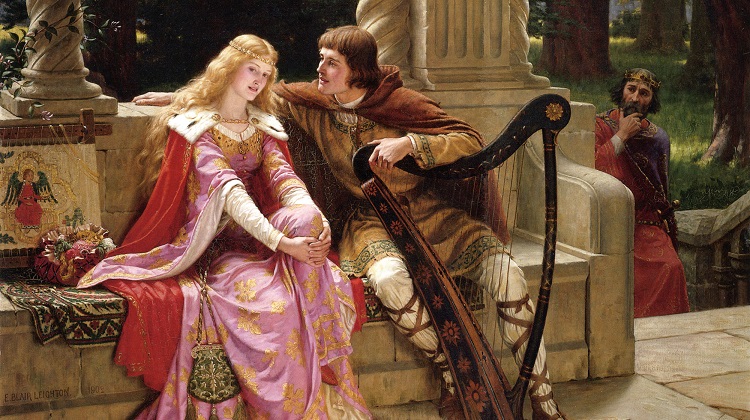 THE THEORY OF COURTLY LOVE
Troubador poetry dealt with war, politics, personal satire and other subjects: but the theme which is predominant and in which real originality was shown, is love. The troubadours were the first lyric poets in mediaeval Europe to deal exhaustively with this subject, and as their attitude was imitated with certain modifications by French, Italian, Portuguese and German poets, the nature of its treatment is a matter of considerable importance.
Of the many ladies whose praises were sung or whose favours were desired by troubadours, the majority were married. Troubadours who made their songs to a maiden, as did Gui d'Ussel or Gausbert de Puegsibot, are quite exceptional. Love in troubadour poetry was essentially a conventional relationship, and marriage was not its object.
This conventional character was derived from the fact that troubadour love was constituted upon the analogy of feudal relationship. If chivalry was the outcome of the Germanic theory of knighthood as modified by the influence of Christianity, it may be said that troubadour love is the outcome of the same theory under the influence of mariolatry.
In the eleventh century the worship of the Virgin Mary became widely popular; the reverence bestowed upon the Virgin was extended to the female sex in general, and as a vassal owed obedience to his feudal overlord, so did he owe service and devotion to his lady. Moreover, under the feudal system, the lady might often be called upon to represent her husband's suzerainty to his vassals, when she was left in charge of affairs during his absence in time of war. Unmarried women were inconspicuous figures in the society of the age.
"Thus there was a service of love as there was a service
of vassalage, and the lover stood to his lady in a position
analogous to that of the vassal to his overlord"
Thus there was a service of love as there was a service of vassalage, and the lover stood to his lady in a position analogous to that of the vassal to his overlord. He attained this position only by stages; "there are four stages in love: the first is that of aspirant (fegnedor), the second that of suppliant (precador), the third that of recognised suitor (entendedor) and the fourth that of accepted lover (drut)."
The lover was formally installed as such by the lady, took an oath of fidelity to her and received a kiss to seal it, a ring or some other personal possession. For practical purposes the contract merely implied that the lady was prepared to receive the troubadour's homage in poetry and to be the subject of his song.
As secrecy was a duty incumbent upon the troubadour, he usually referred to the lady by a pseudonym (senhal); naturally, the lady's reputation was increased if her attraction for a famous troubadour was known, and the senhal was no doubt an open secret at times.
How far or how often the bounds of his formal and conventional relationship were transgressed is impossible to say; "en somme, assez immoral" is the judgment of Gaston Paris upon the society of the age, and is confirmed by expressions of desire occurring from time to time in various troubadours, which cannot be interpreted as the outcome of a merely conventional or "platonic" devotion.
In the troubadour biographies the substratum of historical truth is so overlaid by fiction, that little reliable evidence upon the point can be drawn from this source.
However, transgression was probably exceptional. The idea of troubadour love was intellectual rather than emotional; love was an art, restricted, like poetry, by formal rules; the terms "love" and "poetry" were identified, and the fourteenth century treatise which summarises the principles of grammar and metre bore the title Leys d'Amors, the Laws of Love.
The pathology of the emotion was studied; it was treated from a psychological standpoint and a technical vocabulary came into use, for which it is often impossible to find English equivalents. The first effect of love is to produce a mental exaltation, a desire to live a life worthy of the beloved lady and redounding to her praise, an inspiring stimulus known as joi or joi d'amor (amor in Provencal is usually feminine).
Other virtues are produced by the influence of this affection: the lover must have valor, that is, he must be worthy of his lady; this worth implies the possession of cortesia, pleasure in the pleasure of another and the desire to please; this quality is acquired by the observance of mesura, wisdom and self-restraint in word and deed.
The poetry which expresses such a state of mind is usually idealised and pictures the relationship rather as it might have been than as it was. The troubadour who knew his business would begin with praises of his beloved; she is physically and morally perfect, her beauty illuminates the night, her presence heals the sick, cheers the sad, makes the boor courteous and so forth.
For her the singer's love and devotion is infinite: separation from her would be worse than death; her death would leave the world cheerless, and to her he owes any thoughts of good or beauty that he may have. It is only because he loves her that he can sing. Hence he would rather suffer any pain or punishment at her hands than receive the highest favours from another.
The effects of this love are obvious in his person. His voice quavers with supreme delight or breaks in dark despair; he sighs and weeps and wakes at night to think of the one subject of contemplation. Waves of heat and cold pass over him, and even when he prays, her image is before his eyes. This passion has transformed his nature: he is a better and stronger man than ever before, ready to forgive his enemies and to undergo any physical privations; winter is to him as the cheerful spring, ice and snow as soft lawns and flowery meads.
Yet, if unrequited, his passion may destroy him; he loses his self-control, does not hear when he is addressed, cannot eat or sleep, grows thin and feeble, and is sinking slowly to an early tomb. Even so, he does not regret his love, though it lead to suffering and death; his passion grows ever stronger, for it is ever supported by hope. But if his hopes are realised, he will owe everything to the gracious favour of his lady, for his own merits can avail nothing.
Sometimes he is not prepared for such complete self-renunciation; he reproaches his lady for her coldness, complains that she has led him on by a show of kindness, has deceived him and will be the cause of his death; or his patience is at an end, he will live in spite of her and try his fortune elsewhere.
Source: Full-text of the book is available here; The Troubadours, by H.J. Chaytor