Many people have read Orwell's prophetic book 1984, but almost none has heard of the 1971 pulp fiction novel The Feminists, an equally prophetic work detailing events that have unfolded -and continue to unfold- in the area of gender politics. By way of introduction here's the blurb from the back cover: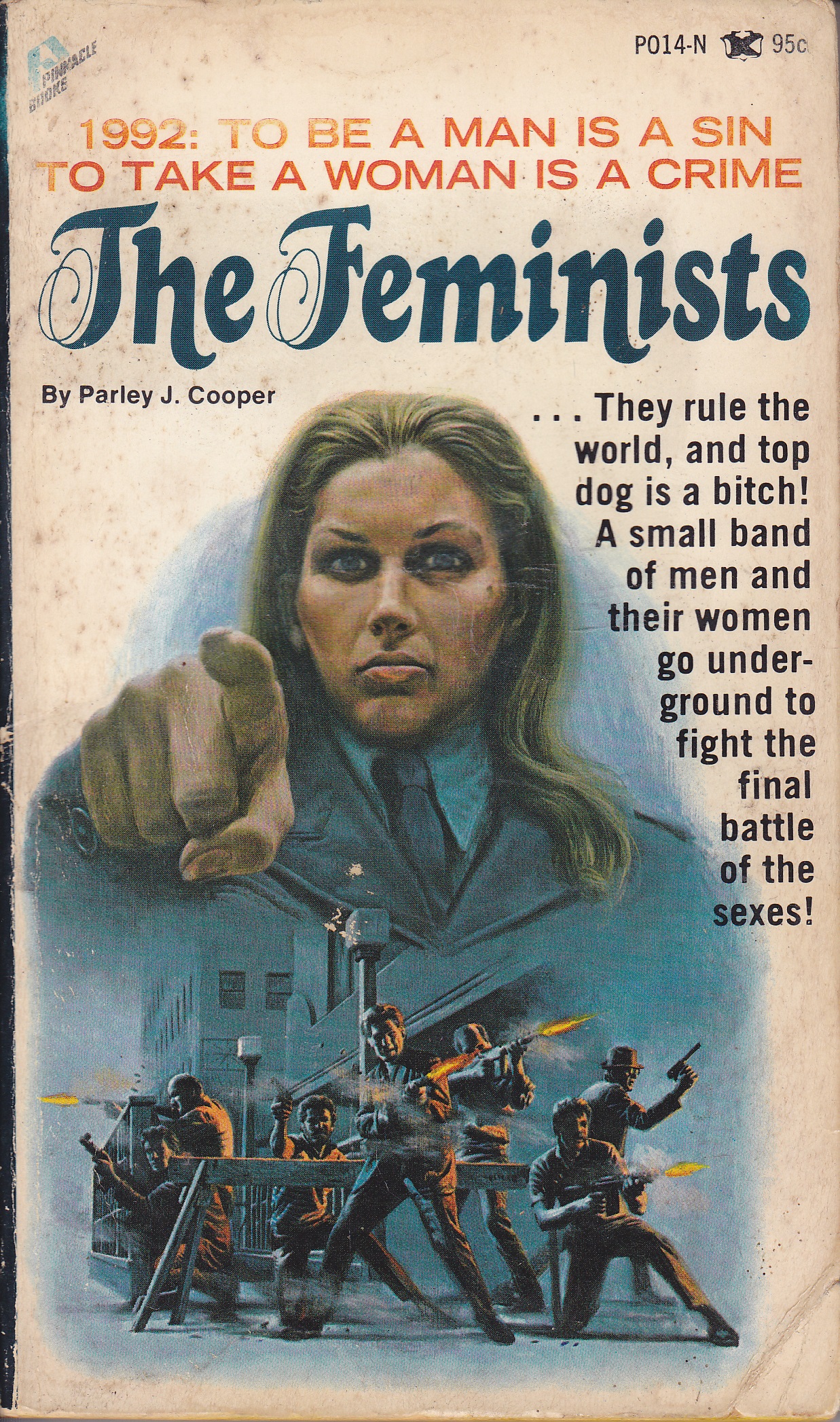 THE STORY THAT HAD TO BE WRITTEN—SO TIMELY, SO FRIGHTENINGLY POSSIBLE, YOU WON'T BELIEVE IT'S FICTION!

Take a look into the future…women now rule the world—or most of what's left of it—and their world is not a pretty place to live in. Men have been reduced to mere chattel, good only for procreation. THE FEMINISTS are working to eliminate even this strictly male function…

Men must get permission to make love to any female—even if she is willing—or the penalty is death!

Follow one man's story as he is hunted for just such a crime. In desperation, he stumbles upon the hide-out of the subterranean people—others, like himself—both male and female—who have broken the law of THE FEMINISTS. Hiding in abandoned subway undergrounds, this group of gallant and desperate people wage a guerilla war to overthrow their enslavers.

Set in the year 1992, the story recounts the rise of misandry and feminist governance that saw women in charge of every aspect of civilization, and of a growing resistance movement (to feminism) that mirrors the sentiment of men's rights groups that have formed in the decades since the book was written. The story tells of how one resistance group, while living in a network of secret underground tunnels, plans and executes a successful bombing (which I hasten to add no one in the MHRM would ever consider doing) at a public gathering attended by both the feminist President and a mayor named Verna. The deed is one of many attempts to undermine feminist governance and hasten the end of misandric culture.
During the bombing the feminist President is injured. From a hospital bed she organizes an emergency meeting with executive members of her government, including her old friend and mayor, Verna, who was also witness to the bombing. The following is the pivotal scene in which the President addresses her guests, and where she makes the intriguing suggestion that an increase in female MHRA's has made it impossible for feminist governance to continue. – PW
***


The president glanced from one to the other of the women, her eyes finally settling on Verna and softening as if she was remembering their long years of friendship during the rise to power. She smiled weakly and then fixed her gaze on her own hands. There was a look of defeat on her face.

"It has been the policy of our administration to conceal the unfavorable aspect of Feminist control," she said, her voice almost a monotone. "I've spoken to some of you individually about the resistance in Los Angeles and Chicago."

"The pigs can be overcome," the Secretary of Defense interrupted. "We beat them once, we can do it again!"

"No," the president said firmly. "We won't beat them again. We are no longer merely fighting the male element of society. An increasing number of females have joined forces with the men.

"Traitors!"

The president lifted her head and stared at the Secretary of Defense coldly. "This country," she said, "is in the midst of a revolution like it has never known. The only thing keeping us from being ousted is the lack of communication. If the revolutionists in each city did not think they were fighting alone, they would be in control. Fortunately we've dissected the country by cutting off all forms of communication." She met Verna's stunned face. "The resistance movement in New York has been minor in comparison," she said. "But all these groups will soon unite. It's inevitable."

The Mayor, feeling her legs growing weak, turned and sank into a chair.

"The time has come for us to objectively examine our control," the President said. "Unless we return the rights to males that make them equals, our country will be torn apart."

"But they're not equals!" the Secretary of Defense insisted.

"Thirty percent of the female population has suddenly decided they are, " the President said. "To retain control we would be fighting our own sex." She closed her eyes and sighed wearily. "In short," she said, "we must face the fact that Feminist control has failed."

The mayor felt as if she had been struck. "Then it's all been in vain," she mumbled.

"Not entirely," the President told her. "Not if we concede now. Unless we allow ourselves to be beaten and forced into male servitude, we can maintain our dignity. Remember, I said equals. In the future, men will consider us in higher esteem. Many of the changes we have brought about will remain in effect. Our control, even though only temporary, has proven that our sex does not make us inferior. "

"Is this what you intend to tell the public?"

"It is."

"You will create mass hysteria."

"I don't think so," the President said. "Granted, there will always be a segment that will resent my decision to reunite the sexes. I suppose there will be guerilla fighters who refuse to comply, but they will be a minority. I only hope none of you are among them. There are many problems our country must face once the question of sexual superiority is conquered. All of us are needed. We must rebuild our environment and stop starvation."

Source: The Feminists, by Parley J. Cooper (pp. 173-75) Pinnacle Books, 1971