Written by August Løvenskiolds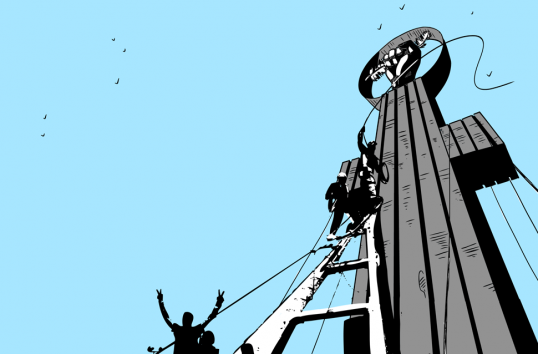 Are you sick of seeing good men destroyed? Tired of being assaulted by women? Sick at craziness and brutality being tolerated when they come from women but swiftly punished when a man even hints at them? Worried at the prospect of your young children being taken from you, and turned against you, by a woman who wants to rape your wallet?
Disgusted at the thought of showing chivalry and deference to foul-mouthed, thieving, drunken, sloppy and disrespectful harlots[1]? Enraged at the thought that newborn baby boys are sexually mutilated in order to tart up ladies' cosmetics?
These are but a few of the many paths that might've brought you to this red door, and many wounds and diseases can be treated with the red pill, but your recovery will take conscious effort and patience on all of our parts – I know, because mine sure did, and I still struggle with it every day.
An AVfM Commenter suggested recently that a 12 Step program for recovering feminists might be necessary. I've been kicking around a similar idea for a while now, but my version is for any blue or purple pill person interested in taking the red pill.
What are the red, blue, and purple pills? They are metaphors for your worldview. I'll be using a lot of MHRM buzzwords in this article, and part of your recovery will center around your taking responsibility for researching them for yourself.
Now, 12 Step Programs have been around for a while (I even helped found one back in the mid 1980's) and have mixed records of success, but since they are well-known they can serve as a helpful framework to map out what you can expect once you start breaking the chains of gynocentrism. So, stealing shamelessly from those who have blazed the trail, I give you an overview of:
The 12 Steps of Liberation from Gynocentrism
Step 1: Honesty
After many years of denial, recovery can begin with one simple realization – that whether from feminism or traditionalism, Gynocentrism means more than equal rights: it is about securing unearned and undeserved comforts, security, money and power for women and women alone, at the expense and often destruction of men, their lives, and their families.
Step 2: Faith in oneself
It seems to be a spiritual truth that before we can break the chains of the expectations that gynocentrism places on men, we must accept that men are worthy creatures undeserving of the shame, self-loathing and lies that are told about us. Men, and the happiness of men, matter. They are critical to the survival of both humankind and human civilization. When enough men give up on it, society dies.
Step 3: Self-liberation
A lifetime of deference to the whims of whining women will come to a screeching halt, and change forever, by making a simple decision to turn it all over to a higher power – one's own good judgment that men's needs matter, too. The only true liberation is self-liberation – a slave forced into freedom by others will remain enslaved until he embraces his freedom as his own.
Step 4: Soul-searching
Change is a process, not just an event. Recognizing how our previous attachment to gynocentrism damaged ourselves, the men around us, and yes, the women, too, requires a lot of thought into often unpleasant memories and past experiences. This soul-searching, though painful, will build our strengths and understandings for when we face future conflicts with those still committed to pedestalizing women.
Step 5: Commitment to Personal Integrity and Truth
A most difficult step to face, but also the one that provides the great opportunity for growth. When you commit to personal integrity and truth you will find the courage to face down your fears and stand up for the rights of men where no one else seems willing to make the first objection to male disposability.
Step 6: Acceptance of our Defects
Everyone has personal character faults but such faults are no reason for us to accept unjust treatment. A man with flaws can still be a good father, a hard worker, and a worthy person. No one has the right to shame us for our sexual desires, the choices or flaws in our physical appearance, our accomplishments, our failures, or our infirmities.
Step 7: Confidence and Humility
As we discover and embrace the newfound power that comes with liberation from gynocentrism, we must be cognizant of the need to balance our confidence with humility – not the false humility from shame, but rather, a knowledge that our strength has real limits and that personal growth can be a frustrating process at times. We must learn to be confident enough in our worth and skills that we can accept new challenges – challenges we are humble enough to understand that we might fail at achieving.
Step 8: Willingness to make amends
Making a list of those we harmed before coming into recovery from gynocentrism can be daunting – long-term feminists in particular may find they have numerous abortions, falsely accused boyfriends, amputated foreskins and penises, stolen job opportunities, and massive shoe collections hanging over their newly heightened consciences. Becoming willing to actually start the struggle to make amends to those we have wronged can be the most difficult part of recovery and many falter on this step.
Step 9: Forgiveness
Being willing to forgive others as well as asking for forgiveness for ourselves may seem like a bitter red pill to swallow, but for those serious about recovery it can be great medicine for the spirit and soul. Even the failure of gynocentrists to embrace forgiveness will help us in that it will throw their sociopathy into sharper relief.
Step 10: Maintenance
Nobody likes to dwell on past wrongs but continuing study into men's human rights issues is necessary to maintain progress and vigilance in recovery from gynocentrism, lest we fall back into old habits and long-held, toxic beliefs about men.
Step 11: Making Contact
There is value and strength in contacting others in recovery to share our stories and plan our futures, whether as a group or on our own. In recovering from gynocentrism, the insights of one man or woman can and do enrich all our lives. Additionally, building a community of men who recognize the value in each other is a rare and powerful weapon against gynocentrism. Men don't bond (in general) as quickly or seamlessly as women do, and whenever men build a space for themselves, women try to bully their way in.
Step 12: Service to Humankind
It is not uncommon for those in gynocentrism recovery programs to experience anger over the pain of our long enslavement to the Golden Uterus. Male anger is a good thing – it is how we heal; it is how we grieve; it is the motivation the drives us to help others. Reaching out to others caught in the violent abattoirs of gynocentric privilege can provide the rare gift of saving and enriching men's lives rather than gratuitously destroying them. Even a lone MGTOW like me can add to the fight by cutting back and resisting the forces that feed gynocentrism's ever growing need for power, money, and resources.
***
This is not the end but the beginning. I've got a lot more to say, but this article in overdue and overlong already. My warmest regards to you all.
Author's note: although based loosely on (and sometimes in contradiction to) The Twelve Steps of AA, this article is intended as neither a criticism nor endorsement of AA or any other Multi-Step-based program.
[1] Yes, we are aware that the website for the Traditional Woman's Rights Activists, or, more aptly named, We-Only-Submit-To-The-Men-Who-Obey-Us knitting circle and coffee clutch assembly no longer exists. Thank God and/or the Spaghetti Monster.